Turban - Vintage from Yoshi Now!, Sequined Short-Sleeved Cardigan - Vintage, Pocketed Tank Top - J. Crew, Jewelry - Konstantino + Vintage, Khaki Shorts - Vintage Dockers, Shoes - Jeffrey Campbell, Sunglasses - Vintage 1950s frames with new lenses from Old Focals, Sweater Clasp - Vintage from eBay
I'm back from New York! It was cold and icy, but beautiful and fun.
Spring is already upon us here in Los Angeles. I find myself in need of a massive wardrobe overhaul. I am displeased with everything I own.
I am going to go through my closet this weekend and get rid of a good portion. I think I am going to start an Etsy store that basically serves as an ongoing yard sale. In the meantime, I am planning my Spring purchases. I stick to a tight budget when shopping, so everything I purchase will be from thrift stores, Forever 21, Nasty Gal, and the sale section of Urban Outfitters (listed in order of purchase amount).
Here are some affordable items that are in my online shopping carts for consideration:
I can't wait to wear over-the-knee lace-up boots with white thigh-high socks and cut off jean shorts! These ones are Forever 21 for $37.
This is another great Forever 21 find! I love the color of this destroyed sweater tee. It would look great belted over a tank maxi dress with a big floppy straw hat.
Don't even get me started on this cardigan. I think I originally saw it whilst drooling over Pixie Market, but this one here is from Nasty Gal. At $135, it's more than I like to spend on clothing, but it's not really a high price-point, and it's so spectacular that I just need to have it.
I never bought the Litas, but I did admire them. I simply could not justify a near $200 purchase when my good ol' $30 F21 boots pleased me just fine. However, these platform mules are driving me crazy. Have you ever seen a finer shoe? I might just have to bite the bullet this season and go the Jeffrey Campbell route to pick up a pair of these bad boys. These are listed on Nasty Gal for $155.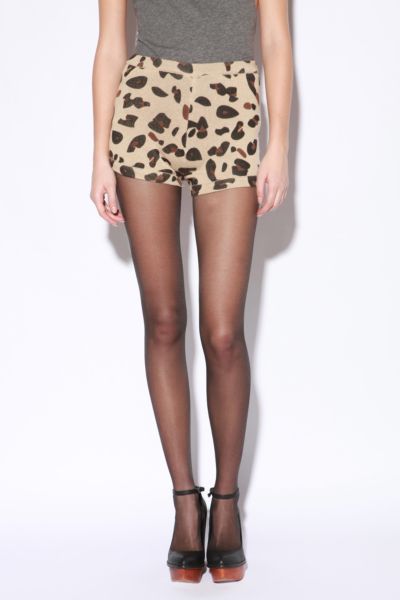 Who wouldn't adore a pair of leopard-print knit booty shorts?! It's like Fran Drescher meets Fresno. I love it. Better yet, they are on sale at Urban for $20 -- that's just twenty of the dollars, which is thoroughly unreal and simultaneously mega-rad.