Dress - Tunnel Vision (coming soon!), Belt - Tunnel Vision (coming soon!), Jewelry - All Over
This post is all shameless self-promotion, really.
Brit
and I are launching an online vintage shop this December called Tunnel Vision, about which you probably already know. We are really excited about it. Personally, I was really stoked when I found this flowy '90s dress for the shop -- it's just so different than our other stock! We have a lot of gorgeous pieces from the '60s and '70s, but I thought that this was just enough
pretty
and just enough
grungy
. I went to her house the other day, where we have converted one whole room into Tunnel Vision land, and saw it hanging on the racks. I was tempted to put it on, so Brit was kind enough to humor me and take pictures in her backyard-thing. The belt is Tunnel Vision, too. Look at that tooled leather from the '70s! Sometimes I look at our stock and just go, "YAY!" and clap like an obnoxious child. I hope you all feel the same way when it's up and running.
I named this post "In-a-Gadda" after the Iron Butterfly song. I thought it would sound like "in the garden", as it is theoretically supposed to, but it comes out sounding like "in the gutter", which also works for me. I lady-ified this dress, but I think it would also look rad minus the belt with Docs and a beanie.
Speaking of vintage, do y'all know about James Rowland vintage shoes on Etsy? It's crazy how awesome that shop is. Here is just one of my favorites: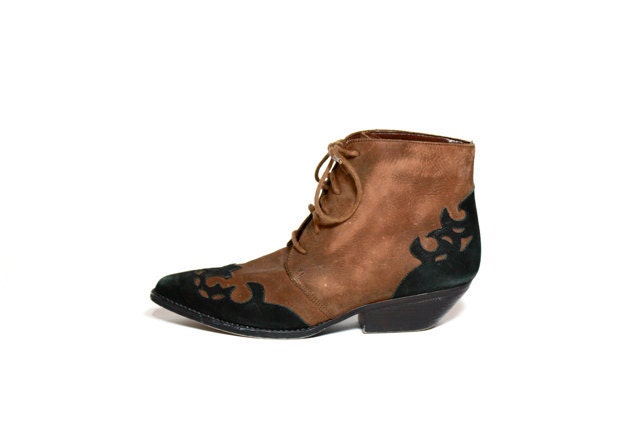 You oughtta be in pictures, boot.
****************************************
EDIT: When I first made this post, I accidentally typed Iron Maiden instead of Iron Butterfly, and then someone was politely like, "Um, Madeline, no." I swear, I need to proofread these things.. To my credit, who talks about Iron Butterfly ever? I talk about Iron Maiden nonstop, all day long. It makes sense that my brain would autopilot on the word Iron and just pop "Maiden" in there afterwords. However, it would have made MORE sense for it to type out Iron Man instead, given my proclivity for sophomoric action and comic book-based things. What happened there, brain?